Leon Baptiste Visit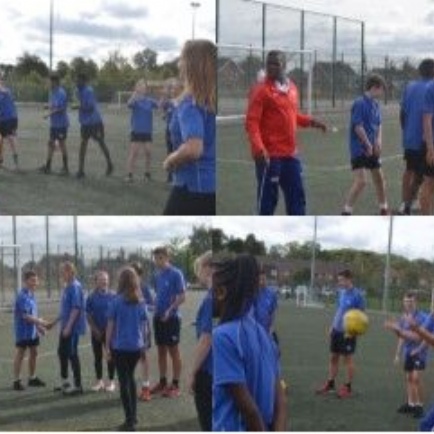 The Duston School PE department arranged the visit of a high profile GB athlete as part of our enrichment programme and as a reward for commitment and achievement in curricular and extra-curricular PE. All of the winners from our recent sports day were invited to attend, along with selected students from our BTEC sport and A-Level PE groups.
The visiting athlete was Leon Baptiste who was a gold medallist in the 200m and 4x100m relay at the Delhi commonwealth games in 2010. Leon started the day by delivering an inspirational assembly on his career to date, sharing both the highs and lows of being a professional athlete and sheading a light on the challenges that a full time athlete faces on the road to success. Following the assembly, Leon led four practical athletics workshops with our sports day winners from year 8, 9, 10 and 11. As well as having fun, students focused on developing their running technique for sprinting in a series of drills and activities.
Finally, during the afternoon session Leon took a grilling from our exam PE students in a question and answer session where students probed him on aspects of his training, diet and mental preparation for competition. All of the students responded really positively to the day and we hope that the experience will inspire them to continue to work hard and strive to achieve their best in their sport and school career.
Mr P Wood - Head of Sport