Citizenship Fair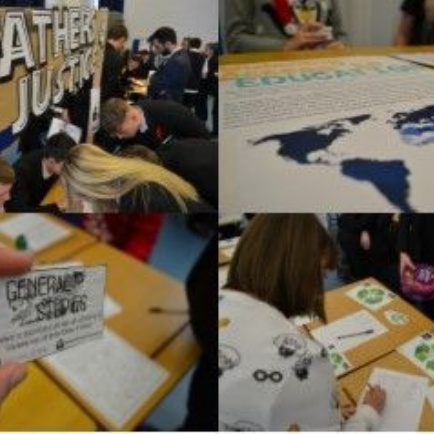 Year 11 students studying GCSE Citizenship presented their ideas about a campaign issue that they had researched for The Duston Citizenship Fair. The fair lasted for an hour in the afternoon, and it gave our students a platform to campaign before the entire Year 11 cohort, who came to the fair in groups of fifty. It was a vibrant atmosphere as the students set up stalls in small groups to promote their campaign ideas.
The eighty-seven students that campaigned had spent a considerable amount of time in lessons researching about their campaign area, and preparing to promote their campaign ideas. As visitors moved around the Main Hall it was striking how passionate the students were in promoting their campaigns. Small groups of students could be seen campaigning against knife crime, and promoting the message 'Unite don't fight'. One group of students gained a lot of support in their campaign to live in a more environmentally friendly way, offering practical solutions to support the preservation of the environment against the back-drop of a brilliant display board.
There were also well constructed and presented campaigns that supported the Fathers For Justice movement, and extremely well researched campaigns that promoted widening access to education globally, as well as considering other ways that the curriculum could be broadened nationally to focus upon equipping students with life-skills to succeed after they have left education.
Many thanks to all of the students and staff that attended the Citizenship Fair and supported our students in their work, and massive congratulations to all of the groups of students who campaigned so effectively and passionately about their chosen Citizenship topic.
Mr J Allen -