Accelerated Reader
Accelerated Reader
Accelerated Reader (AR) is a program designed to support, track and encourage students with their reading.
Every student has their own unique login which their English teacher will share with them during their Library induction. They can then use this to access their user area on the school's AR site here:
https://ukhosted73.renlearn.co.uk/2245808/default.aspx
There are two sections to the AR site:
STAR reading
Students are tested three times throughout the academic year to determine their reading level. They will do these tests during English lessons and their English teacher will share their reading level (or ZPD) with them so they know the best books at their level for challenge and progress.
2.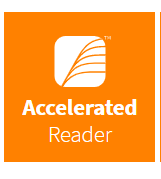 Accelerated Reader
This is the section where students can log and track the books that they have read.
Every time a student finishes a book, they should complete a quiz on that book. They should ideally complete the quiz within 48 hours of finishing the book to ensure the best possible score. They will need to search for the book first, then click 'complete a quiz'. There will be 10 questions to check their understanding of the story (and ensure that they have fully read the book). If they score over pass the quiz and the book will then be entered onto their 'bookshelf'.
There is also a tab for 'progress' which students can keep track of their average quiz score, the number of books read and their total word count.
Word Millionaires
The more students read, the more their reading ability will progress. We encourage students with their reading by rewarding anyone who reaches a word count total of one million words. Students are awarded with a certificate in assembly and an Amazon voucher for this achievement, as well as being added to the Library 'Wall of Fame'.
Tutor Group League table
As well as an individual word count league table, we keep track of the total words read by each tutor group with a league table in the Library. There is a prize for the highest scoring tutor group in each year group at the end of each term.
If you have any problems with using Accelerated Reader, please contact the school Librarian, Miss Lacey on clacey@thedustonschool.org.