Curriculum
Curriculum at Key Stage 3
Our core aims:
Our core aim is to help students climb the tree of knowledge, so they can access university, higher education, employment or an apprenticeship
Our curriculum is embedded in a knowledge rich approach and we firmly believe that knowledge begets knowledge
Through the enacted curriculum there is an expectation that students retain what they have been taught in their long term memory (schema)
There is a strong emphasis on retrieval practice, sequencing and interleaving, with the curriculum seen as a progression model
Powerful knowledge gives students the cultural literacy they need to become active citizens in society and further their personal aspirations and ambitions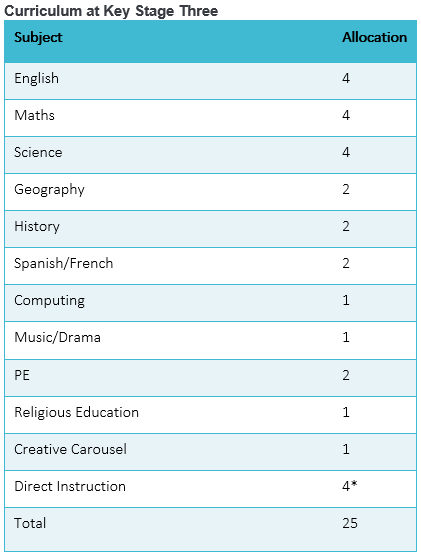 Curriculum at Key Stage 4
Our Key Stage 4 curriculum is broad and balanced with a strong focus on the EBacc (English, Mathematics, Science, Languages, History and Geography) and a range of high value subject options such as computing, Design Technology, Music and PE. We have limited the number of GCSE subjects to be studied by our students to a maximum of eight. This will reduce the exam burden and help ensure that our students are given the time and opportunity to develop intellectually.
Subjects studied and time allocations at KS4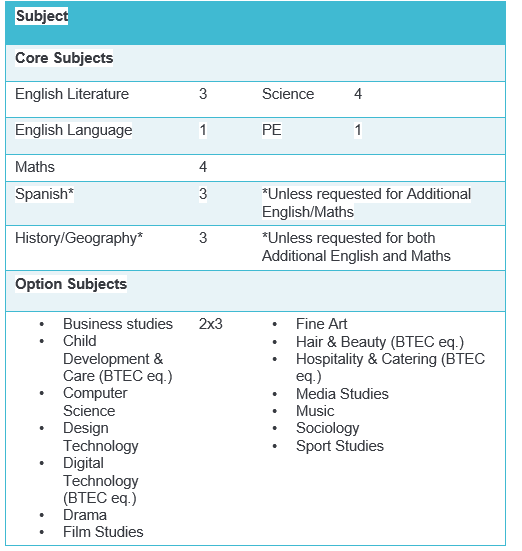 Please also see our GCSE options booklet available to download below: