Exam Information
Sixth Form Results
The Duston School is delighted with the outcomes of its Post 16 students, which are the best ever in its Post 16 history. We are incredibly proud of all of our student's accomplishments and achievements and commend the staff for their continued hard work and dedication in supporting our students to achieve the very best possible outcomes. Outcomes have increased across almost every key headline measure, with a rise in the number of students attaining A*-A, A*-B and A*-E passes. In terms of progress, our results in 2019 place us significantly above national for both Academic and Applied subjects as can be seen in the Value Added report below and actually place us top in the county for academic progress. These results show that, on average, students achieve half a grade higher than they would nationally be expected to do so.
In 2020, due the cancellation of exams, results were based on centre assessed grades. All subjects were in line or above 2019 outcomes with 36% of all academic grades being awarded at A*-A and 67% being awarded at A*-B. A similar picture can be seen in our applied courses with 54% of all grade being awarded a Distinction*.
2019 Value Added results: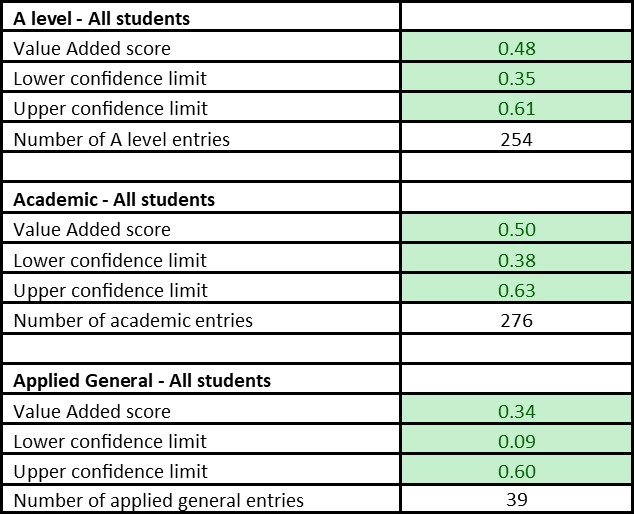 More details of our results against school performance measures can be found using this link: www.compare-school-performance.service.gov.uk
Exams Timetable
GCE Results
Exam results will be made available to students on the following days:
If students are unable to come in and collect their results and would like them posted please provide an A4 self addressed envelope with a large letter stamp before the end of the current academic year.