PRIMARY OPEN DAYS 2023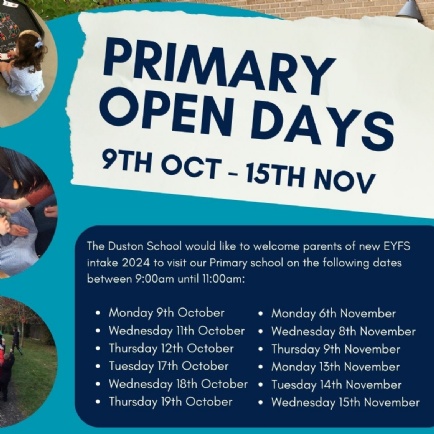 The Duston School would like to welcome parents of new EYFS intake 2024 to visit the Primary school on the following dates between 9:00am until 11:00am:
Monday 9th October
Wednesday 11th October
Thursday 12th October
Tuesday 17th October
Wednesday18th October
Thursday 19th October
Monday 6th November
Wednesday 8th November
Thursday 9th November
Monday 13th November
Tuesday 14th November
Wednesday 15th November
At each event you will be welcomed by the Head of Primary or Deputy Head of Primary for a tour around the school, each tour will last 10min and will be one family at a time.
Please click the following link to book: https://www.eventbrite.co.uk/e/the-duston-school-primary-open-days-tickets-718404917447?aff=oddtdtcreator
Booking information:
We ask that only two family members attend with their child.
You must book a time slot, there will be no admission to the event without a booking.
Please arrive no more than 5 minutes before your time slot.
Please be advised that there will be no onsite parking. Disabled parking available on request.
We look forward to welcoming you to The Duston School, for further information please contact our Events Team: events@thedustonschool.org