Character and Culture
Character and Culture at The Duston School
The Duston School is founded on a clear mission statement and set of aims that inspire our pupils to 'climb the tree of knowledge so they can access University, Higher Education, Employment or an Apprenticeship and be the very best edit of themselves.' We endeavour to help our pupils gain the highest qualifications, acquire flexible life-long learning skills, and be ready to act responsibly as global citizens. We also promote the social, moral, spiritual and cultural development of our pupils, including a recognition and understanding of Fundamental British Values.
The Duston School Secondary Phase has a clearly demarcated character culture session as part of an extended school day every Monday. This 30 minute session covers the following key topics: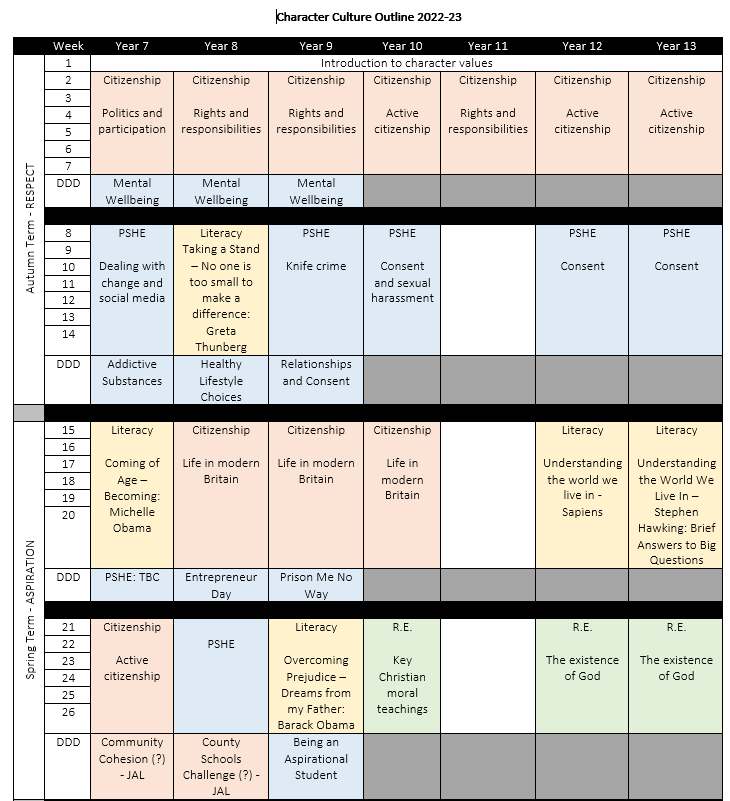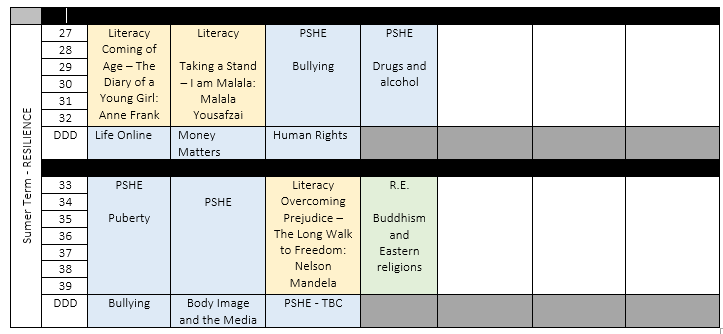 PSHE:
The PSHE sessions within the Character Culture rotations will cover a variety of topics which fall under the Statutory Guidance for Relationships Education, Relationships and Sex Education (RSE) and Health Education.
(https://www.gov.uk/government/publications/relationships-education-relationships-and-sex-education-rse-and-health-education).
These modules of work pull resources from accredited organisations, such as The PSHE Association, and charities working with young people across the UK. The sessions are designed to be engaging, thought-provoking and offer students a space to discuss their thoughts and views of different areas of life in the wider world. Year 7 and Year 8 will cover dealing with change and social media, and puberty. Year 9 will cover bullying, knife crime and gangs. Students in Year 10 and Year 11 will cover drugs and alcohol awareness and consent.
The aim of these sessions is to equip students to live healthy, safe, productive, capable, responsible and balanced lives. It encourages them to be enterprising and supports them in making effective transitions, positive learning and career choices and in achieving economic wellbeing. PSHE education contributes to personal development by helping students to build their confidence, resilience and self-esteem, and to identify and manage risk, make informed choices and understand what influences their decisions. It enables them to recognise, accept and shape their identities, to understand and accommodate difference and change, to manage emotions and to communicate constructively in a variety of settings. Developing an understanding of themselves, empathy and the ability to work with others will help pupils to form and maintain good relationships, develop the essential skills for future employability and better enjoy and manage their lives.
For further information regarding the PSHE element of the Character Culture curriculum, please contact Miss K McColl on kmccoll@thedustonschool.org
RE:
In Key Stage 3 Religious Education is taught within the main teaching timetable for one lesson per week, and covers a broad range of topics and areas of Religious Education. The areas of study that are covered in the Key Stage programme of study include looking at the beliefs and practices of the main world religions, philosophy and ethics and Biblical literacy. Our aim is to teach the students about all of the main religions in the world; their key teachings, key historical figures and how religion positively contributes to our society. Our aim is therefore for our students to learn both about the main religions and from the main religions. The programmes of study that we have put in place also enable our students to develop their thinking skills as they explore key philosophical questions relating to the meaning and purpose of life.
In the Character Culture sessions after school on Mondays we are able to build upon the foundations that we have put in place in Key Stage 3. Throughout the course of the year within Year 10 the students cover the following areas of study:
"What do different religions believe in?"
"What is so radical about Jesus?
"What is it like to be a religious teenager in Britain today?"
"Are religion and science compatible?"
"In order to believe do we need proof?"
"Why is there suffering in the world?"
As the students move into Year 11 they then cover the following areas of study:
"What role can religion make in ethical decisions?"
"Are we using or abusing our environment?"
"Should people be punished for their crimes?"
"Is war ever right?"
"What role does gender and sexuality play in the modern world?"
"Why do human rights vary?"
Through studying these topics we aim to develop our Key Stage 4 students' understanding of the key teaching of the main world religions and support our students in being able to articulate and express their views about the place, value and contribution of religion in the world in the twenty-first century, in a respectful way and with the ability to listen to others and to value the insights that other students can offer in relation to the topics and themes that are covered.
Citizenship:
Through the character culture sessions that focus upon Citizenship Studies we will be providing our students in Key Stages 3 and 4 with the knowledge and skills to play a full and active role in society. Our programme of study aims to provide our students with an opportunity to develop a greater understanding and appreciation of the principles and values of British society, to explore how political power is devolved in the UK, and to examine the role that the UK plays in key international organisations. We also aim to develop our students' knowledge and understanding of the role of law and justice in our society, how laws are created and the processes that are then enacted to ensure that the laws are enforced.
As part of our Citizenship Studies provision we also invite local community groups, such as the Hope Centre, to come into school to speak to our students so that they can gain a greater understanding of the way that local groups and charities support the most vulnerable people in our society. We also provide opportunities for our students to examine case studies of groups and individuals that have been successful active citizens in our society, both historically and in contemporary times, to support our students in maturing into responsible and effective active citizens that contribute positively to our society.
Literacy:
It is vitally important to us that our students leave The Duston School as lifelong readers. We know that regular reading helps students develop their knowledge of the world they live in and improve empathy for people around them, as well as helping them become confident, articulate adults.
During terms 3 and 6, students will be studying the biography of an 'Inspiring Life', reading and discussing key extracts and what we can learn from them, as well as exploring linked articles and helping them to understand the cultural impact that inspirational people can have on the world.
The texts are as follows: