PE
PE Department – Vision

At The Duston School we value the power of knowledge. Through the study of a wide range of sports, physical activities and fitness training, our goal is to equip students with the knowledge and skills that allow them to fulfil their potential on the sports field, whilst preparing them for further study and career options in this subject area. Further to this, we believe that high quality physical education can play a key role in developing an individual's character, providing rich opportunities for personal and social development. We strive to inspire students to participate regularly and raise their awareness of the importance of physical activity and sport as part of a healthy active lifestyle.
Curriculum Offer and key information
Core PE
All students will receive core PE lessons and will follow a broad and balanced programme of study, covering the domains of team games, individual games, athletic activities, creative performances, outdoor and adventurous activities and sports and exercise science. The programme of study is designed to meet the national curriculum aims in PE and prepare students for the study of PE in key stage 4 and 5.
Girls programme of study: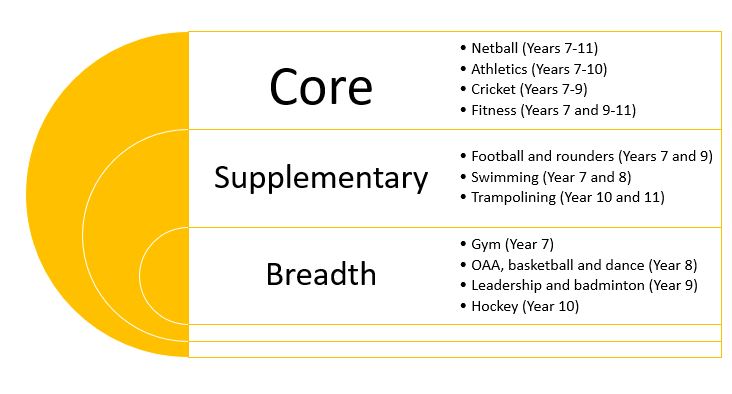 Boys programme of study: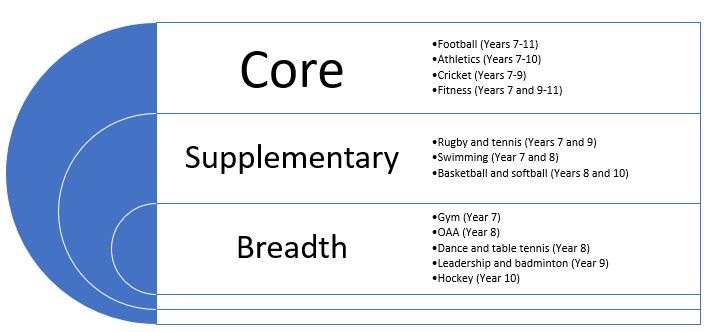 Sixth form students will also receive PE lessons. Students will be given activity options on a termly basis. Core PE in sixth form is focused on recreation and enjoyment, giving balance to student's weekly timetable and encouraging the maintenance of a healthy active lifestyle.
Core PE assessment
Students will not undertake public examinations as part of their core PE. Students who wish to follow examination PE/sport in KS4 and/or KS5 will do so through their subject options choices.
However, informal and internal assessment will take place in core PE and will be reported to parents on an annual basis. We believe that ongoing assessment is an essential element of high quality teaching and learning. It sets clear goals for students and teachers to strive towards and enables us to track students' progress effectively. Students will receive a numerical grade for their competence and performance in each unit of work. They will receive an overall percentage grade based on an average of their assessments.
PE Kit
All students in key stage 3 and 4 are required to wear the appropriate Duston School PE kit. The uniform PE kit required includes:
TDS polo shirt with school logo
TDS black PE shorts with school logo
TDS black tracksuit bottoms/leggings with school logo
TDS rugby shirt with school logo (boys)
TDS tracksuit top with school logo (girls)
TDS PE socks with school logo (winter sports)
Trainers
Injury or illness
If your son/daughter is injured or unwell, please communicate this to their PE teacher by email or written note. Where possible the PE teacher will then adapt the lesson for your child so that they can still take part through coaching, umpiring or observational roles. So that they are dressed appropriately for the environment and taking on alternative roles, students are still expected to bring their PE kit even if they are unable to participate fully due to injury or illness.
Examination PE Curriculum Offer
Key Stage 4 Examination PE
Students who choose to study sport in Year 10 will be studying the new BTEC Tech Award in Sport.
This course is split into three components:
Component 1: Preparing Participants to Take Part in Sport and Physical Activity
Component 2: Taking Part and Improving Other Participants Sporting Performance
Component 3: Developing Fitness to Improve Other Participants Performance in Sport and Physical Activity
The course will be assessed through written assignments which are set by the exam board as well as a written exam paper.
Students studying sport in Year 11 will complete the BTEC First Award in Sport.
Within the First Award, students will have three lessons per week in year 10 and two lessons per week in year 11: a combination of theory and practical lessons.
The course will be assessed through written coursework assignments, practical video evidence and one externally assessed exam.
Students will be expected to complete the following four units over the two years:
Year 10: Unit 1: Fitness for Sport and Exercise (online exam) and Unit 2: Practical Performance in Sport (Practical evidence and written coursework)
Year 11: Unit 3: Applying the Principles of Personal Training (Synoptic unit – written coursework) and Unit 5: The Sports Performer in Action (written coursework)
Key Stage 5 Examination PE
Students who choose to continue their studies into Post 16 will complete the BTEC Extended Certificate in Sport (1 A-Level Equivalent).
Students will study:
Year 12: Unit 1: Principles of Anatomy and Physiology in Sport (written exam) and Unit 3: Professional Development in the Sports Industry (internal coursework).

Year 13: Unit 2: Fitness Training and Programming for Health, Sport and Well-being (written exam based on case study) and Unit 5: Application of fitness testing (internal coursework).
Learners will produce a portfolio of work to demonstrate their knowledge, understanding and skills for each assessed unit. The course will be assessed through written coursework assignments and two external assessments (including a written and an externally set task based on a case study). Learners will need to demonstrate a high level of independence and organisation to ensure assignment deadlines are met.
Future Careers
The study of physical education and sport provides a stepping-stone towards a number of further education courses, apprenticeships and career opportunities. These include:
Teaching/Lecturing – Primary and Secondary PE/Sport and Further Education Lecturing
Sports Science/Elite Sport – Professional Sports Athlete, Sports Analyst, Sports Scientist, Physiotherapist, Strength and Conditioning Coach, Sport Nutritionist, Sport Psychologist.
Media and Business – Sports Journalist, Sports Photographer, Presenting & Commentary, Statistical Analysis, Agent, Marketing, Lawyer.
Coaching – Sports Instructor, Sports Coach.
Leisure – Lifeguard, Swimming Instructor, Team Leader.
Fitness – Gym Instructor, Personal Trainer, Facilities Manager.
Events/Planning and Hospitality.
Officiating – Refereeing/Umpiring.
National Governing Bodies – Sports Development Manager.