TDS Combined Cadet Force (CCF)
Combined Cadet Force (CCF)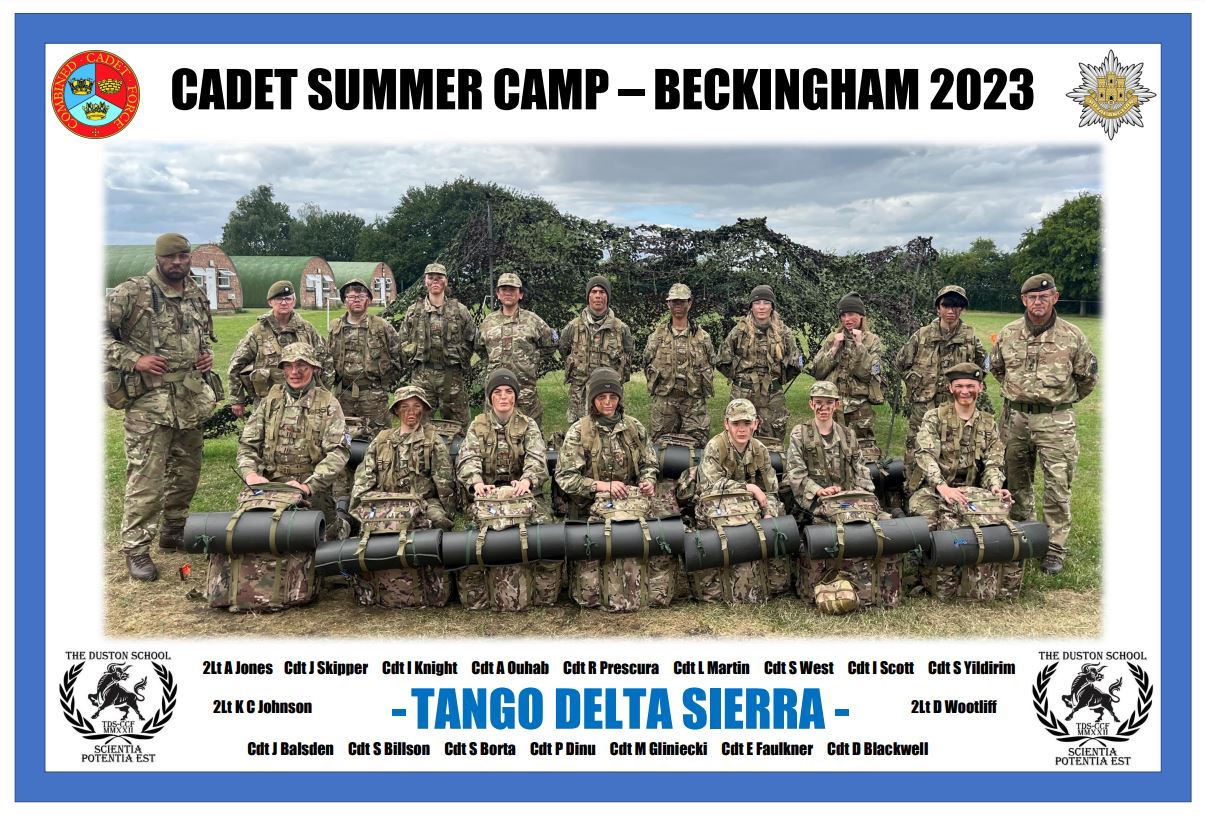 The Combined Cadet Force (CCF) Army Section
The Combined Cadet Force is a national voluntary youth organisation that is supported by the Ministry of Defence, it is a tri-Service military cadet organisation that is based in schools and colleges throughout the UK.
The Duston School proudly established it's CCF Contingent in 2022 with the support of Mr S Strickland. Mr Johnson and Mrs Jones being the founding members have established a contingent that has grown in staff and Cadets over the past year and continues to build on this success. Mr Wootliff has recently joined us as our new Contingent Commander and has previous experience that will further progress the Duston Schools Combined Cadet Force.
The Duston Schools CCF firmly believe that the values of the British Army:
Courage
Discipline
Integrity
Loyalty
Respect for Others
Selfless Commitment
things that we should all aspire to as cadets and members of the community. This aligns with the Duston school's ethos that all that attend are inspired to.
Dream – Believe – Achieve
What is our aim?
The CCF aims to provide a range of military themed activities that challenge our Cadets and help build a disciplined organisation building key leadership skills through training which promotes qualities of responsibility, self-reliance, resourcefulness, endurance, perseverance and a sense of service to the community.
These aims are achieved through a variety of military based training and activities including learning the intricacies of drill, uniform care, marksmanship skills, shooting, first aid, surviving in the field, navigation, military fitness and sporting activities; as well as adventure training such as rock climbing, kayaking, canoeing, archery, paintball, mountain biking, expeditions and camping.
Pupils learn to work within a team as well as having to assume leadership roles which further pushes them out of their comfort zone. Additionally, they learn to problem solve creatively through participation in command tasks.
Who can apply?
The CCF is open to all students in years 8 and above. We welcome cadets of all abilities and backgrounds and continuously aim to develop a sense of community. All cadets start at the same level and through our training programme allow each individual to develop their own talents in a new and challenging environment.
Timings
We parade in uniform every Tuesday after school from 1450 hours and will finish at 1700 hours in term time only.
Fees
The Contingent joining fee is £100 per year, this contributes towards the cost of insurances, uniform, equipment, rations and transport. We provide a pair of combat boots that no cadet may participate in training without. This is purchased a size larger and is replaced if outsized for free.
Camps and extra-curricular training
We will take our cadets for training on key weekends throughout the year to concentrate our key training in a more realistic manner that allows Cadets to put into practice their military knowledge. Once a year we will attend a week-long summer camp where the cadets get to practice their military skills alongside contingents from around the country as well as taking part in various adventurous training activities. From time to time other opportunities may arise for our cadets to take part in and we aim to make the most of what the Army has to offer to further the Cadet experience.
Any student who is interested in joining the Duston Schools Combined Cadet Force should talk to 2Lt Wootliff 2Lt Johnson (SSI) or for Parent's/Carer's email ccf@thedustonschool.org
Meet the Staff
2nd Lieutenant D Wootliff - Contingent Commander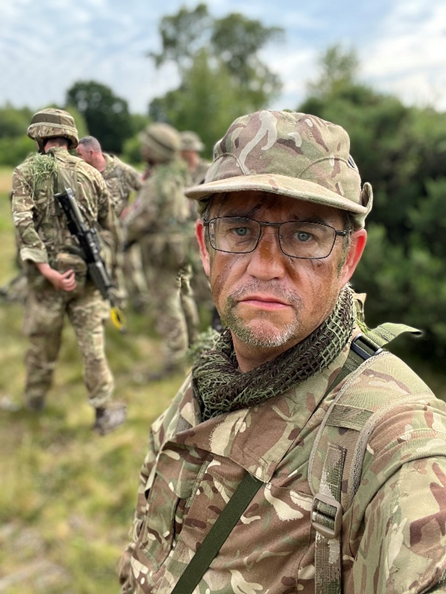 2nd Lieutenant Wootliff has an extensive background in the toy and children's entertainment industry and has worked for Disney and Warner Bros to name a few. Working in Product Development, Marketing and as a board director across leading toy companies. He is married with two children and enjoys time out of school walking Snowdonia and spending time with friends and family.
He is a Maths teacher at the Duston School and joined the CCF in 2022, helping support the two existing senior officers. In terms of his military background, he was fortunate to attend a Grammar school that had a CCF as a child and enjoyed cadets at school and then as part of the London Officer Training Corp (OTC) for three years, whilst studying Engineering Product Design at South Bank University, attached to the Royal Signals and his basic training was at Catterick garrison which at the time was the first time an OTC territorial unit had trained at a regular army camp.
2nd Lieutenant Wootliff wants to help the cadets at Duston develop as rounded characters, building on the school's virtues of respect, aspiration and resilience and using the experiences of the CCF to help all cadets be the best they can be…
2nd Lieutenant K Johnson - School Staff Instructor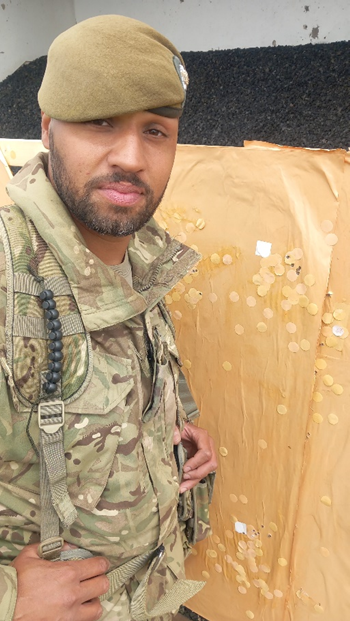 Having been involved with the Army as an Infanteer with the Royal Anglian Regiment from 2006-2016 2Lt Johnson has dedicated ten years to multiple roles within the Army. Having deployed on operations in Iraq (2008) and Afghanistan (2014) with 2 Royal Anglian (The Poachers) he has had the privilege of seeing and experiencing many aspects of what the military had to offer.
During that time, he has worked in Army recruitment, recruit training, as well as being able to take part in numerous honour guards from Anzac day in Cyprus, the Queen's Diamond jubilee in Windsor and being part of the burial party that lowered King Richard III in his home town of Leicester. 2Lt Johnson looks forward to bringing some of what he has learnt within his time in the forces, to this new and exciting role within The Duston School with a more school friendly approach.
After the Army, I worked as an external provider of military fitness, discipline and positive behavioural training within the education sector for a number of years across 12 schools in both primary and secondary. With the combined experiences above in both the Army and Education, he plans to deliver an experience through the CCF that will boost student's confidence, unlock their leadership skills, improve their ability to work as a team and increase their resilience.
TRAINING SYLLABUS
What you'll learn during your time in the CCF
Military knowledge – The history of the CCF and information about the modern Army
History of the CCF
Ranks and badges of rank – Army/Cadet
Drill and turnout - How Cadets present themselves and move around when in a group
Turnout
Wearing/caring for your uniform
Aim and purpose of drill
Drill movements
Marching and halting
Fieldcraft and tactics – Living out in the field and taking part in tactical, military style exercises
Fieldcraft – overview
Preparation and packing of kit
CEFO/CEMO
Overnight exercises
Navigation – Understanding and using different types of maps
Introduction to map reading
Care and correct use
Map information
Map symbols
Map reading in the field
Expedition – Using fieldcraft skills to navigate, set up campsites and cook for yourself and your fellow Cadets
Expedition – overview
Duke of Edinburgh Award
Planning and preparation
Skill at Arms and shooting – Learning how to safely use various weapon systems and fire accurately at targets
Introduction to shooting
Safety with weapon systems
BSA Scorpion Cadet Sporter .177" Air rifle – overview
Normal Safety Precautions
Maintaining weapon systems
Basic handling drills
Firing and stoppages
Marksmanship principles
First Aid – Using essential lifesaving skills to become a valued member of society
Introduction to first aid
The conscious casualty
Making a 999/112 call
Unconscious casualty
Recovery position
Cardiac arrest
Choking
Serious bleeding
Cadet in the community – Physically helping out in your local community with events and projects
Introduction to Cadet in the community
Voluntary service
How can you serve the community?
Parades and services
Physical training – Using strength and cardio training to build a robust body for the challenges ahead
Introduction to Physical training and warm ups
Stretches
Basic exercises
Fitness assessments
Running long/short distances
Marching over distance (Tabbing - Tactical Advance to Battle)
UNIFORM
What you'll wear:
Beret – Shaped to slope over right eye
Cap badge – positioned over left eye
Multi-terrain pattern combat shirt – Ironed with no loose threads
T-shirt - Moisture wicking
Multi-terrain pattern combat jacket - Ironed with hood tucked away
Left blanking plate – Union Flag and TDS badge
Right blanking plate – Star badge and awards
Belt – Centralised and fitted correctly
Multi-terrain pattern combat trousers - Ironed and no loose threads
Boots – Brown, waterproof and polished
REMEBRANCE/ARMISTICE DAY
The Duston school is proud to hold a military parade every year and the combined cadet force take centre stage in this as a sign of respect to those that gave their tomorrow, for our today.
Training Weekends
Training weekends are designed to test the skills you've been taught and give you a chance to camp away from home, build your own basha (tent) and cook rations for yourself
PHOTOS:
For more information please use the Link below for the national CCF website: